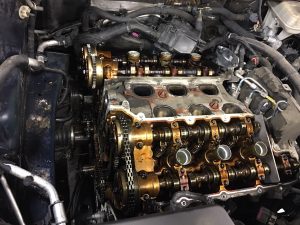 Many GM vehicles on the road with the V6 3.6L engine are running into issues with their timing chains. Bank Street Auto, located in Orchard Park, New York, has expert mechanics that are trained to perform the GM Timing Chain Replacement.
The problem might start with a simple check engine light displayed.  Anytime your check engine light comes on, it is best to bring your vehicle into your local vehicle repair shop to have your vehicle's computer scanned to determine the reason for the check engine light.  Another sign that your vehicle might have a timing chain issue is the strange 'bearing' noise, coming from under the hood.  This is the noise of your stretched timing chain. This GM issue is occurring because of premature wear of the timing chain.
GM timing chain replacement service at Bank Street Auto includes all of the parts needed to fix the problem.  Our mechanics will be sure to clean your intake and change your oil as a part of the timing chain replacement service.
For more information about our GM timing chain replacement services, call Jeff at: 716-662-4700.